N-deklinacija / N-Deklination
U ovoj lekciji pričaćemo o N-deklinaciji. Koje imenice se dekliniraju po ovoj deklinaciji, kako da prepoznamo te i menice i koja su pravila za ovu deklinaciju.
Thank you for reading this post, don't forget to subscribe!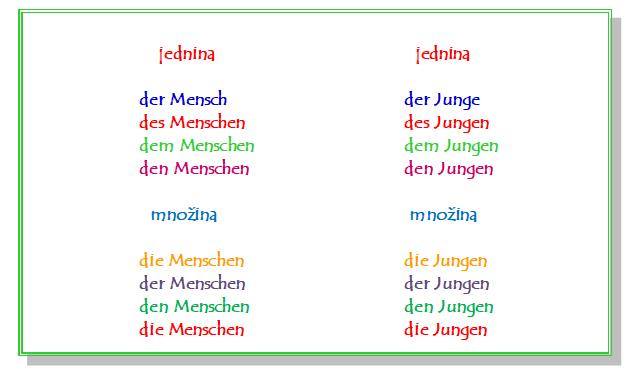 Karakteristika ove deklinacije je nastavak –(e)n; njega dobijaju sve imenice muškog roda u svim padežima jednine i množine, jedino ga nemaju u nominativu jednine.
Broj imenica koje pripadaju N-deklinaciji jer relativno mali. Imenice ove deklinacije se još nazivaju Schwache Nomen ( slabe imenice). One su uvek muškog roda. Ima jedan izuzetak das Herz, bez njih nebi moglo, zar ne. 🙂
Imnice N-deklinacije završavaju uvek na –e
U ovu grupu spadaju pre svega:
Imenice N-deklinacije na –e
– der Buchstabe (slovo), der Gedanke (misao), der Name (ime), der Friede (mir), der Wille (volja) , der Glaube (vera)
Ove imenice u genitivu dobijaju nastavak  –s, na primer: Namens.
der Franzose, der Grieche, der Pole, der Russe, der Schotte, der Türke, der Serbe, der Brite, der Bulgare, der Chinese, der Däne, der Ire, der Kroate, der Ungar
der Bote (glasnik), der Bube (dečak),  der Bursche (momak), der Erbe (naslednik), der Experte (stručnjak), der Gatte (muž), der Heide (paganin), der Insasse (zatvorenik), der Junge (dečak), der Junggeselle (neženja), der Knabe (dečak), der Kollege (kolega), der Kommilitone (kolega student), der Komplize (saučesnik), der Kunde (klijent), der Laie (laik), der Neffe (nećak), der Riese (div), der Sklave (rob), der Zeuge (svedok).
der Affe (majmun), der Bär (medved), der Bulle (bik), der Coyote (kojot), der Drache (zmaj), der Hase (zec), der Falke (soko), der Fink (zeba), der Löwe (lav), der Ochse (vo), der Rabe (gavran), der Schimpanse (šimpanza).
poimeničeni pridevi i participi s određenim članom:
der Kleine, der Reisende, der Gefährte
Imenice stranog porekla koje završavaju na:
-and, -ant, -ent ( uglavnom su to osobe ) N-deklinacija + -en = den Studenten
der Absolvent, der Agent, der Assistent, der Astronaut, der Demonstrant, der Diamant, der Dirigent, der Doktorand, der Elefant, der Emigrant, der Konsonant, der Konsument, der Lieferant, der Musikant, der Student, der Präsident, der Produzent.
-oge, -ad, -at ( uglavnom zanimanja ) n-Deklination + en
der Automat, der Biologe, der Bürokrat, der Diplomat, der Gynäkologe, der Kamerad(prijatelj, drugar), der Kandidat, der Pädagoge, der Soldat, der Soziologe.
-ist ( osobe, zanimanja) n-Deklination + en
der Autist, der Christ (hrišćanin), der Egoist, der Idealist, der Journalist, der Kapitalist, der Kommunist, der Polizist, der Sozialist, der Spezialist, der Terrorist, der Tourist
izuzeci ( uglavnom osobe ili zanimanja) N-deklinacija + en
der Architekt, der Bauer (seljak) (+ n), der Chaot (smetenjak), der Depp, das Herz ( des Herzens ), der Held (junak), der Favorit, der Fotograf, der Graf (grof), der Herr (+ n), der Idiot, der Mensch, der Nachbar (+ n), der Narr (budala), der Pilot, der Prinz.
Imenica der Herr ima u jednini nastavak – n, u množini – en: des Herrn , die Herren
Pogledajte još:
Prisvojne zamenice
Određeni i neodređeni članovi
Rod imenica u nemačkom
Prezent pravilnih glagola
Pravilni glagoli u prezentu, preteritu, perfektu
Nepravilni glagoli u prezentu, preteritu, perfektu
Nepravilni glagoli podeljeni po grupama
Preterit
Perfekt
Pluskvamperfekt
Futur I
Futur II
Modalni glagoli
Pomoćni glagoli
Geografski pojmovi u nemačkom
Particip I i II
Lista nepravilnih glagola
Redni brojevi